"Celebrating Everyday Motoring Memories"
Thanks for dropping by the My Dad's Car Podcast Page. Here you'll be able to find out a bit more about Jon and Andy (L-R) why the podcast was started, where to find the podcast, and upcoming events you could visit where they might be speaking or attending.
If you are a fan of the show, then you can follow the 'off mic antics' on Instagram, Facebook and sometimes Tik-Tok!

Want to appear on the My Dad's Car Podcast? Drop us an email. You'll find all the details on our contact page.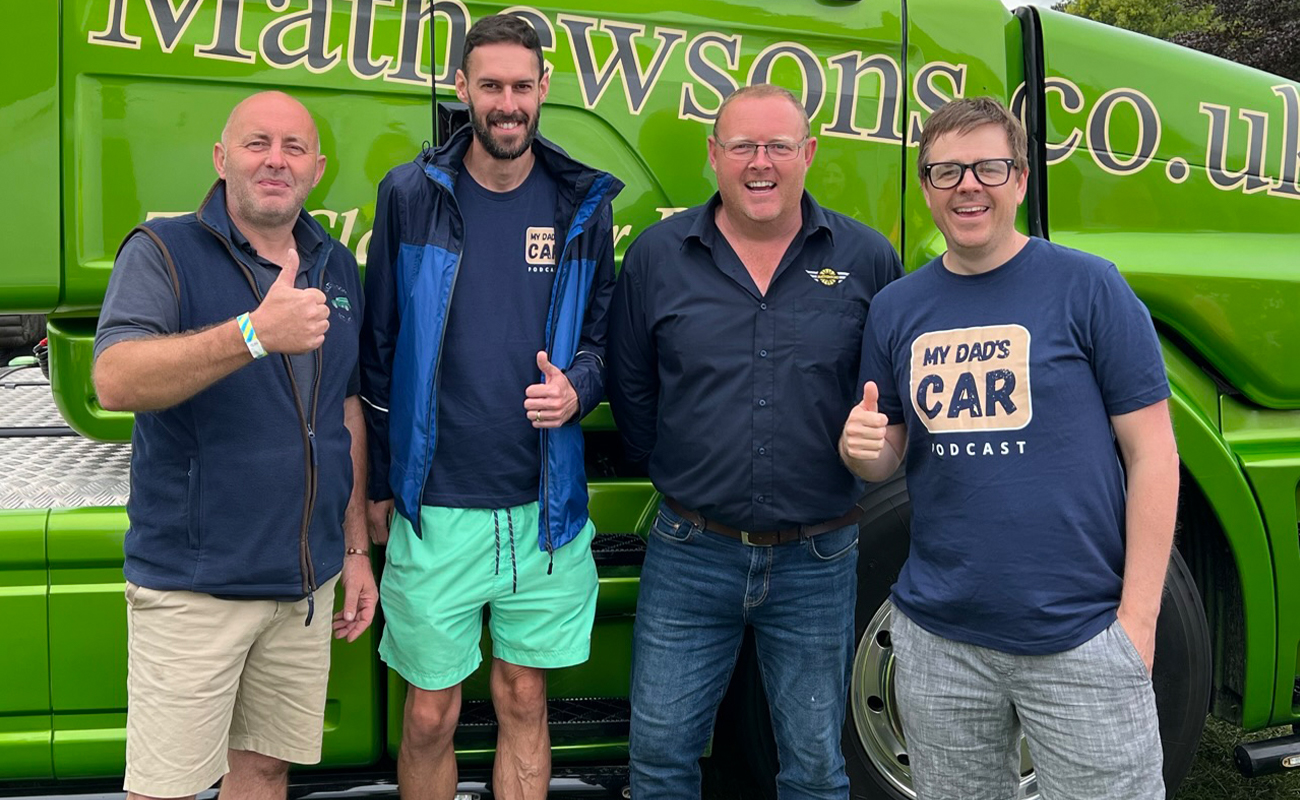 What is the Podcast about?
Despite the title suggesting that My Dad's Car podcast favours memories of male role models, we are very much encouraging of stories from other family, friends, neighbours and more. Mum's cars, Gran's cars, Teachers, Doctors, Scout Leaders. We know there are stories attached to all of these vehicles and people, and we'd love to discuss them, and share with our listeners (and your loved ones) to be enjoyed for many years to come.

We publish regular episodes fortnightly on Tuesday mornings. We also try and publish a few bonus episodes each season, much shorter in length, typically featuring out takes from a main episode, or us generally being pretty silly, following spin off ideas for the 'My Dad's' franchise!
Take a listen to our most recent episodes below from the comfort of your web browser. You can also find them on all the usual podcast playing apps, and You Tube too.
What Our Listeners Say
If you're enjoying the podcast, please take a moment to leave us a review... It won't cost you a penny, and it'll make a big difference to the growth of our show. Currently reviews are only correlated by Apple Podcasts.
Apple Podcasts
Brilliant bit of car nostalgia
If you're a petrol head this is a must listen to podcast. Pretty much each podcast reminds me of a different automotive memory from my childhood. Keep up there great work gents.
Apple Podcasts
Automotive nostalgia at its best
Fun, informal chats about the cars that influenced our youth and shaped childhoods, each episode seems to reveal a fun tale or two that keeps it light hearted and not too geeky. I seem to find myself perusing the classic classifieds after almost every episode. Be warned you might end up purchasing a 'project' on the back of this entertaining podcast. Thanks guys, keep up the great work!
Apple Podcasts
Reminded Memories
I absolutely love this podcast, well presented and down to earth with superb guests sharing great car stories. I also love the way this Podcast provokes and reminds you of your own childhood memories by listening to the memories others recall. Looking forward to a lot more from these guys!